Applications currently closed



Overview
Mentors inspire, encourage, and support you, and contribute to your professional and personal development as a Seneca student. You can expect to fast track your transition to life at Seneca, while strengthening your network, and gaining the skills and confidence necessary to excel.
Frequently Asked Questions
How do I choose a Mentor? First complete your profile with information on what help you are looking for. Then, browse through the list of mentors and create a mentoring request.
How long will the mentors be available? The Summer 2022 mentoring period will last a total of 6 weeks. We ask our mentors to commit to these 6 weeks to ensure that mentees are able to fully benefit from the relationship. Mentoring is flexible - you and your mentor can work together to determine how frequently you would like to communicate over the semester.
Registration for the September 2022 semester opens on July 11.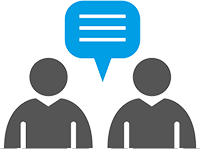 If you will be starting at Seneca in a future semester and would you like a mentor to help guide you through your first few months, check back here for more info.
Student DO's
TAKE A PROACTIVE ROLE IN SHAPING UP THE RELATIONSHIP

Understand what you want from the mentoring relationship and communicate your goals and aspirations to your mentor. 

Set aside time for the mentoring process and keep all scheduled appointments with your mentor and display professional behavior.

PUT THE TIME WITH MENTOR TO THE BEST USE. Come to meetings with mentor prepared with planned topics.

Respond in a timely manner to your mentor's feedback. Respond to emails from your mentor at most two days after receipt.

Be open and honest with your mentor about your challenges and weaknesses. 

If something concerning the mentor needs to be discussed with others, it should first be discussed within the mentoring relationship.
Student DON'Ts
Ask for advice on everything. Have a purpose in each request.

Blame the mentor if their advice doesn't work out.

Expect the mentor to know all the answers.

Commit yourself to obligations you cannot keep.

Cancel meetings/visits with your mentor at the last minute.